Celebrate your next birthday with a party at Lisa's School of Dance! It's a mess-free, stress-free way to celebrate your big day!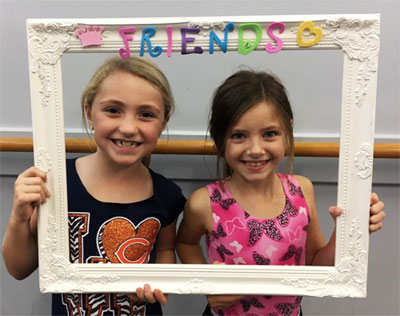 PARTY DETAILS
The party package includes:
15 minute guest welcome

45 minute fun dance class in the theme of your choice, led by your personal party teacher

Up to 30 minute gift and party time in the studio

15 minutes set aside for dance games

Parties include: A party favor for each guest, balloon centerpiece, tablecloths, and studio party decorations.

Lisa's School of Dance will set up the tables and chairs and decorate, then will clean-up everything after the fun.
The instructor will teach a 45 minute age-appropriate class for the children, the class will follow the structure and observe the rules and regulations of a normal dance class but will follow the theme of your choice. Children may wear dance attire or comfortable clothing, dance shoes, or a nonskid sock. Parents are invited to quietly observe.
You provide: The party refreshments, such as: cake or cupcakes, ice cream, snacks, foods or beverages, as well as paper goods and utensils. (Don't forget a knife, a lighter, and candles.)

RATES & DEPOSIT INFORMATION
The fee is $200 for a 1½ hour party for up to 15 guests. Terms of contract require a $50 non-refundable deposit is due with the signed contract at the time of booking. The remaining balance of $150 is due 24 hours before the scheduled party.
Please provide the studio with an approximate headcount at least 1 week before the scheduled party. A $10 charge per each additional child over the 15 dancer limit will be applied to your account and included in your balance 24 hours before the scheduled party.

HOW TO BOOK
Call (650) 372-0160 to book your desired party date today!