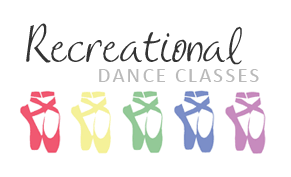 Lisa's School of Dance offers a wide variety of Recreational dance classes for boys and girls, ages 18 months and up. These classes are a great way to dance, get exercise and have fun! Classes include Tap, Ballet, Hip Hop and many more! All classes will be held as a hybrid model. Students and parents will have the flexibility to attend class in person or virtually.
For dress code information, please visit our Rates & Policies page. If you have additional questions, or would like help determining the correct classes for your child, please contact the studio today.
2022-2023 RECREATIONAL "Show Stars" CLASS SCHEDULE
All Class Levels are by placement only. Students will be evaluated during their first class.
Register Now For Our 2022-2023 Season!
We have started to use a new studio software. Please click HERE to register for our 2022-2023 session
| | | | |
| --- | --- | --- | --- |
| AGES | TYPE OF DANCE | DAY | TIME |
| Ages 7-10 | Ballet 1/2 | Friday | 6:45-7:30pm |
| Ages 7-11 | Ballet 2/3 | Tuesday | 6:45-7:30pm |
| Age 9-12 | Ballet 4 (Mini Co)* | Monday | 4:15-5:15pm |
| Ages 10 & up | Ballet 5 (Teen Co) | Tuesday | 4:45-5:30pm |
| Ages 10 & up | Ballet 6/7 (Petite Co) | Monday | 6:00-7:00pm |
| Ages 10 & up | Ballet 7/8 (Junior) | Monday | 5:00-6:00pm |
| Ages 10 & up | Ballet 10 (Ultra) | Monday | 7:00 - 8:30pm |
| Ages 11 & up | Show Stars Teen Ballet/Lyrical | Tuesday | 8:00-8:45pm |
| Ages 7-11 | Show Stars Jazz I/II | Thursday | 5:30 - 6:15pm |
| Ages 11&up | Show Stars Teen Jazz | Tuesday | 7:15 - 8:00pm |
| Ages 7 & up | Show Stars Tap I/II | Thursday | 6:35 - 7:20pm |
| Ages 5-7 | Hip Hop/Jazz I *Full* | Thursday | 4:00 - 4:45pm |
| Ages 8-10 | Hip Hop/Jazz II *Full* | Friday | 6:00 - 6:45pm |
| Ages 8-12 | Hip Hop III | Thursday | 4:45-5:30pm |
| Ages 9 & up | Tumbling For Dancers | Wednesday | 5:30-6:15pm |
| Ages 9 & up | Tumbling For Dancers | Friday | 4:45-5:30pm |
| Ages 10 & up | Pre-pointe | Friday | 4:00-4:45pm |
| Ages 11 & up** | Pointe I | Wednesday | 6:30-7:30pm |
| Ages 10 & up | Pointe II | Tuesday | 5:30 - 6:30pm |