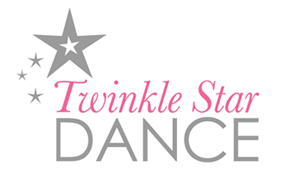 Twinkle Star Dance™ is an age specific 30-75 minute class containing ballet, tap and jazz/creative movement. It is a well-rounded, effective program for teaching technique to young dancers in a fun, accessible way!
For dress code information, please visit our Rates & Policies page. If you have additional questions, or would like help determining the correct classes for your child, please contact the studio today.
2022-2023 TWINKLE STAR DANCE CLASS SCHEDULE
Classes Are Held September 6, 2022-June 2, 2023
Register Now for our 2022-2023 Season!
We are in the process of changing to a new studio software.
Please click HERE to register for our 2022-2023 session
| | | | |
| --- | --- | --- | --- |
| AGES | TYPE OF DANCE | DAY | TIME |
| Ages 2 & 3 | Twinkle Tots *Full* | Wednesday | 4:00 - 4:30pm |
| Ages 2 & 3 | Twinkle Tots | Thursday | 9:00 - 9:30am |
| Ages 2 & 3 | Twinkle Tots *Full* | Saturday | 9:00 - 9:30am |
| Ages 3 - 4 | Twinkle Stars I | Thursday | 4:00 - 4:45pm |
| Ages 3-5 | Twinkle Stars I/II | Friday | 5:15-6:00pm |
| Ages 3 - 4 | Twinkle Stars I | Saturday | 9:30-10:15am |
| Ages 3-5 | Twinkle Stars I/II | Thursday | 9:30-10:15am |
| Ages 3-5 | Twinkle Stars I/II | Saturday | 9:45-10:30am |
| Ages 4-5 | Twinkle Stars II *Full* | Thursday | 4:45 - 5:30pm |
| Ages 4 - 5 | Twinkle Stars II | Saturday | 9:45-10:30pm |
| Ages 5 - 6 | Twinkle Stars III | Wednesday | 4:00 - 4:45pm |
| Ages 6-9 | Twinkle Stars IV | Tuesday | 4:45-5:30pm |
| Ages 6 - 9 | Twinkle Stars IV | Wednesday | 4:45 - 5:30pm |
| Ages 5 - 9 | Twinkle Stars III/IV *Full* | Saturday | 9:00 - 9:45am |